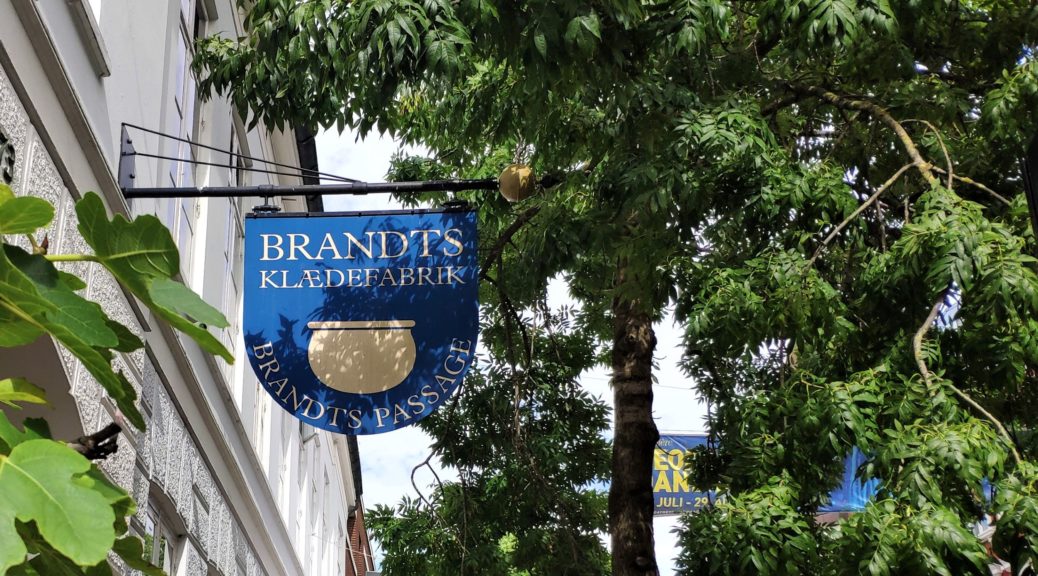 Brandt's Woolen Mill in Odense – a Hub for Culture
Brandt's Woolen Mill in Odense – a Hub for Culture
The Brandt's Woolen Mill in Odense, or simply Brandt's for short, is a charming and historic building complex in the centre of Odense. You can visit and enjoy it day or night. Numerous changes during the years have gradually helped turn the area into the hub of culture and entertainment it is today. It is still a thriving workplace, but nowadays the jobs are very different. Now the activities are centered around entertainment, leisure, shopping and culture, there are lovely boutiques and shops, a gallery and a museum. During the summer there are open air concerts and in winter the area is illuminated with lovely Christmas lights.
Brandt's hasn't always been this pleasant. Originally life was rather hard in and around Brandt's. Back in the late 1700s and in the 1800s it was a thriving dye works and things looked very different. Most jobs in the textile industry meant long hours and very hard and dirty work for men, women and children. Apart from church on Sundays, there was not much time left for anything but work. Should you be interested in learning about working life during the Danish Industrialization I shall happily explain and give a guided tour around what now is a very charming part of Odense, by some called the Latin Quarter. I guarantee you will hear some interesting and surprising stories. If you are good at extracting history from these old walls, architecture and bricks yourself, you might even be able to intuit some of the stories on your own. If you are not really keen on a guided tour but just want to learn about the history we can arrange a lecture in one of the restaurants. Afterwards you can walk around the area on your own and spend as much time as you like by each building.
A Family Run Industry
Originally Brandt's was a family run woolen mill and dye works on the outskirts of Odense. Today this is very much downtown Odense. Which is certainly not unheard of with cities growing during centuries. The Brandt dynasty's name lives on in the name of this part of Odense where now very different products are on sale. Take a close look at the back of the front building towards Vestergade and you will see a portrait of one of the owners, Søren Christian Brandt. On a summer's day it might be a bit difficult to see as sun shades hide part of the portrait but with some luck you can spot it if you place yourself at the good angle.
And now you might be in for a small surprise. The industry did not start off as the woolen mill everyone now believes but as a dye house. You can actually see the sign of its former life as a dye house on the front of the building. Look up and you will spot an imaginary piece of blue cloth hanging from the wall. Why? The answer is quite simple. In the 1700s blue cloth hanging from the wall was the symbol for the dye houses which were organized in a guild like all crafts. Crafts advertised their skills with specific symbols outside their property in order to show potential customers what to purchase. The symbol of the bakers was a bow, the symbol for the shoemakers was a boot and for the dyers the blue cloth as dyed fabric was put up to dry outside the buildings of the dyers. Look out for the symbol, you can still see it. Luckily for you the modern ones do not drip blue dye so feel safe to walk or stand under it as well.
Today with fabrics of all colors available hardly anyone pays attention to the hard work that weaving and dyeing fabric once were. There was a time when all fabric was handmade, at home or on the farms. All colors came from natural dyes and fabrics were mostly made of wool or flax. Colors derived from plants which produced colors such as yellow, brown and green. Colors such as black or blue were expensive and had to be bought from dyers in the city. In other words dyeing was part of the early days of the industrialization in Denmark which happened about 100 years later than in England.
A Remarkable Woman
When the dyer Christian Brandt died in 1814 he left a thriving enterprise to his wife Marianne Lihme who was a remarkable woman. A single mum with three sons, the oldest being only 12 years old, she had to make a tough decision, whether to close down or to take over and run the enterprise so she could provide for her three sons and pay for their education. A tough decision more than 200 years ago at a time with hardly any female business owners.
200 years ago education was rather different to modern professional learning. The 12 year old boy Morten was sent to Copenhagen to start an apprenticeship with a dyer in the Danish capital. A few years later he went on to Germany to continue his education with German dye houses. While he was in Germany he discovered the procedures being different to what he knew from Denmark. He observed how closely dye houses and woolen mills were connected and how both procedures took place under the same roof which inspired him to a reform of his mother's dye house in Odense of which he became the director only 20 years old. His mother Marianne Lihme had run the business for 10 years and we can only imagine how she must have felt, handing over the responsibility to her young son. Did she let go completely? We do not know either whether she was aware of her son's revolutionary and modern ideas or how she felt about them.
He did not set in action his new ideas of combining the dye house and the woolen mill under the same roof right away though. He postponed initiating his ideas for quite a number of years waiting for his own sons to come of age and be able to skillfully run the business together with him. At that time he let one of his sons be responsible for that part of the project. His son had to learn the trade too, be an apprentice in different woolen mills in Copenhagen as well as go to Germany in the 1870s. In the late 1800s weaving on the farms was in decline as the Industrialization was well on its way and taking over. The Danes now bought fabric from shops in the woolen mills rather than work the looms themselves and ready made clothes were sold by manufacturers.
The word manufacturer first appeared in the Danish language during the early 1600s and nowadays it is a word hardly anybody uses anymore. At the manufacturers' they produced ironware and textiles in particular. Prisoners and orphans worked at the manufacturers and produced textiles at a much lower price than imported textiles. Not a pleasant part of history that society's most vulnerable individuals were forced to work for the state under very poor conditions like that. Gradually the Danish language changed and manufacturer came to be a textile producing company. Today it simply means textiles and clothes.
When Morten Brandt and his sons had decided to start a woolen mill alongside the dyeing business the next step was finding and buying the right machines. Bear in mind that in those days steam engines were raree and a very modern invention. They purchased theirs at Burmeiser & Wain in Copenhagen, a renowned Danish company. Carding machines, spinning machines and weaving machines were purchased in Germany and finally in 1869 they were ready to start producing with only 10 employees. As you can see the Brandt's Woolen Mill was founded by Christian Brandt's and Marianne Lihme's son and grandchildren and today the whole area is named after the Brandt's Works. What a legacy.
Tagea Brandt's Travel Grant
The year his father died, Morten Vilhelm Brandt married Tagea Rovsing whom he had known for 10 years. She was older than him and unfortunately she died only half a year after they got married at the age of only 34. No children. To remember his beloved wife Morten Vilhelm Brandt named several grants after her. One of those is the Tagea Brandt's Travel Grant which is an honorary grant for "Women working in the fields of science, art or music" which each year donates about 3 mio DKK.
A Renowned Workplace
Have you ever thought of how strenuous and complicated the task of producing textiles was in the late 1800s? Mostly danish wool was used but also wool bought from Iceland, Australia and other wool producing countries. The wool was washed once it had been separated into qualities. Next step was combing the wool adding the right oils before carding it on huge machines with steel spikes aligning the fibres in thin layers ready to be spun onto big cones by the spinning machines.
Weavers transformed the delicate yarn on the cones into beautiful fabric on the huge looms. You might know that the long treads on the looms are called warp which are interwoven with the weft. Sometimes a thread would snap or the weavers would make an error. Therefore all fabrics were thoroughly checked and all defects corrected. That proces is called nobberiet in Danish. When you go for a walk in the Brandts' complex you see the names on the buildings that will tell you which process took place in each building. Afterwards the woolen fabrics were washed in warm water to make it felt and thereby make the fabric firm and tight.
Once the fabric had felted and the soap had been washed out it was ready for drying and to be given the right surface. With some fabrics that was made by teasels that scratched the surface of the fabric intentionally before the fabric was dyed. Finally one last check for quality in the finnobberiet before the fabric was ironed and ready for sale in the shop.
You have probably already realized that this whole proces required lots of water, water that was provided from the nearby Odense river via an underground pipe. A surprising piece of information: the pistons in the pumps were never replaced. They worked perfectly for as long as Brandt's existed, its entire lifetime which is rather impressive as the enterprise even celebrated its 100 year jubilee.
A Valuable Workforce
A detail even more impressive were the employees. Brandt's was founded at a time when child labor was a fact of life and pretty common. It was in no way unheard of that children started working at Brandt's from the age of 10. Just imagine what life was like in those days – only one workplace during your whole life and you even started when you were still a child. Some worked there for a remarkable number of years, some even celebrated a 60 year working anniversary. Brandt's had a reputation for being a good workplace with excellent facilities for its workers. One of the facilities was a retirement home for former employees and it was quite normal that more generations from one family worked alongside each other at Brandt's. Would that count as excellent facilities today?
Other facilities for the workers at Brandt's Woolen Mill was a GP, options for mortgage and grants for old age pensions and educations. The school was closed down in 1913 when the Danish government passed a bill to stop children from working in factories before 14 years of age. At that time 25% of the workforce in the Brandt's production were children. Just imagine how many children 25% of a workforce of 200 amount to. And it is not even that long ago. In the 1930s Brandt's Woolen Mill was one of the biggest employers in Odense with a workforce of 250 employees.
New Approaches
As everywhere else in Denmark the workers in the woolen mill industry in Odense were involved with forming a weavers union. This was not an entirely popular idea with the owner. He made sure there were no jobs for those who joined the union. That would not be acceptable at all today but back in those days he set his own standards.
33 years later the direction of the Brandt's Woolen Mill recognized the unions as one of the last enterprises in Odense to do so.
When the last remaining member of the Brandt brothers Søren Christian Brandt died, a former apprentice Aage Mendel took over the post as CEO only 23 years old. He introduced the factory onto the stock exchange. Shortly after the introduction to the stock exchange he married Søren Christian Brandt's daughter and their two sons became members of the board.
In the 1950s the factory started using new fibres such as polyester and mixing artificial fibres with wool. The export was growing and the 100th anniversary of the factory in 1960 became the best year ever with the exports vastly exceeding what was being sold on the domestic market.
Only a few years later the situation had changed dramatically. Woolen fabrics and clothes did not sell anymore. Factories abroad paid workers a lot less than Danish workers asked and woolen clothes fell out of fashion being replaced by cotton and denim in particular. Despite the new era, 1973 became the best year ever for the Brandts' Woolen Mill. Only 4 years later it was all over partly due to the oil crisis.
Today Brandt's does not at all resemble what it was like when it was a thriving and vibrant workplace. Brandt's offers completely different experiences. Come see for yourself and let one of our guides let you in on all the captivating stories of what is now a hot spot for culture.