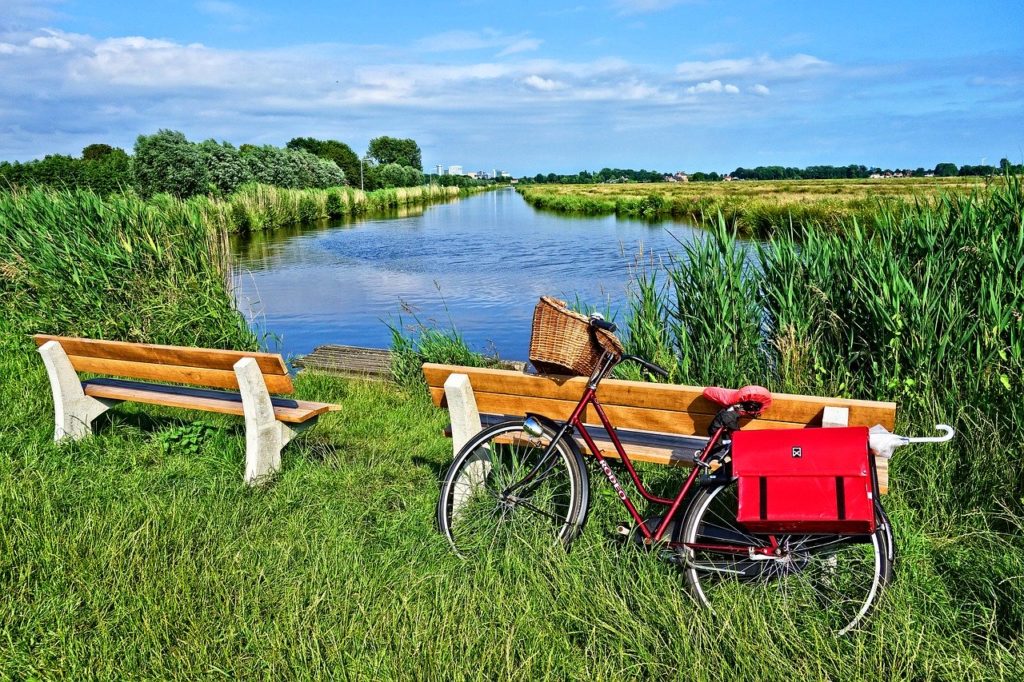 Denmark - Perfect for Biking
If you like to go biking when on holiday you already know how you move through space and nature in a way that differs from the experience of driving a car. You feel how nature sometimes resists or supports your tired legs. How the wind caresses your face and your skin (hopefully) and how you immediately absorb the quality of the surroundings through your eyes. This is something akin to forest bathing on wheels. At the same time soothing, relaxing and demanding, as Denmark is the perfect place for bicycle bathing. You become part of nature with all its power and gentleness. Come sun and sky, wind or rain. Perhaps you spend your days with family or friends while you experience how the power of nature can be both rewarding and challenging at the same time. Denmark offers many routes to a perfect holiday on bicycle, whether it is several weeks, a weekend or just for a day.
We Danes enjoy our bikes as means of transportation whether on a daily basis going to work or when we as children go to school. No, that is not true. We love them. Most Danes have gone on bike trips at some point in their life. Only very few will remember their very first walking-bike at the age of two. Some might remember the tricycle in the kindergarden or the first proper bike, that started out with support wheels. Some of us even remember the times when our father had a pole fitted to our very first bicycle to help us to a steady run.
But we did not like it when we discovered how he'd let go because that's when we tumbled and bruised our knees. Later in life we do not remember the bruises, though. They are all forgotten, the joy of mobility, freedom and mastery replaced them in our image of ourselves.

First we used our bike for going to school, then it was cycling to college, going shopping and for holidays. In Denmark the bike is used as a regular means of transport by practically anybody who can.
Funen Poppies
I was on my first cycling holiday when I was 16. I went with a friend across Funen, not realising it is one of the most hilly areas in Denmark. What I remember most are all the beautiful and impressive red poppies that coloured the fields of wheat, rye or barley.
I was taken by the poppies, and consequently I photographed them more than anything else during the trip. I also remember the rundown youth hostel dormitories of the time. But it was what we could afford back then. Today the Danish hostels are so much better, almost like hotels and I happily stay there nowadays.

I also enjoy staying in B&Bs and have the feeling of being close to nature, as many are located in the beautiful countryside close to the nicest bicycle routes. So far I have met only friendly, open minded hosts who are happy to suggest where to go the next day, help with drying wet clothes on a rainy day or simply just make a hot cup of tea - or coffee. I've enjoyed my B&B stays both here in Denmark and on my holidays abroad. Part of the charm is to explore how people in different countries decide to decorate their home and arrange their furniture. Even though we as Danes might think we are quite alike, our homes are distinctly different from each other. Come see for yourself.
A Bicycle is Perfect for a Family Holiday Touring Denmark
Once all members of your family are old enough and reliable enough to ride safely on a bicycle on country road, a holiday on bike is a great choice. Everyone will be equally tired at the end of the day, not just the parents will be exhausted. Besides, it is probably the most environmentally friendly holiday you can find, and even more sustainable than staying indoors at home watching daytime TV. If you tend to watch a shopping channel it will probably be cheaper too, and definitely better for your health.

If you decide to spend your holiday in only one B&B, hostel or hotel, your prospects for getting to know a particular area improve. Traveling slowly on your bike will allow you the time, ease and mental space to familiarize yourselves with the area you are traversing. In Denmark you do not need to go very far to explore new and different sights, nature or history.

The sky is no limit. Most likely it all comes down to the stamina of your legs and the combined muscle power of your family members.
Bike Friends
Where ever you go in Denmark you will find special bicycle lanes that will allow even the young ones to ride in safety along the quiet country lanes, in nature parks and even in the cities. A rather new idea is the association of Bike Friends. You will find Bike Friends all over the country. On a voluntary basis they provide facilities for bicycling holiday makers.
You'll find museums, shops, cafes and offices as well as some hotels, hostels and B&Bs as members of the voluntary society of Bike Friends. They all provide pumps for your tubes, access to water so you can refresh your bottles and supply tools so you can adjust a brake, patch a deflated tube or change a tyre.
You can find Bike Friends all over Denmark. This is unique to Denmark and their service is completely free of charge. You may choose to take advantage of their additionally paid services as well but should know that the Bike Friends' free service comes with no strings attached.
Some of the Bike Friends allow you to use their lavatories too and if not, they will point you in the right direction. With all these options available, you might want to find out beforehand where you can find Bike Friends and make that a part of your planning.

Knowing where help and assistance are available can remove a lot of worrying while you are on the road. No need to worry about a puncture if you know where you can rest while you patch up the tube.
A Succesful Bicycle Holiday
You should consider how far you want to ride every day when you plan your bicycle trip, and obviously take the weather into account. How far do you think you would want to propel the bike with muscle power on a daily basis? 70 km.? 40? 100? This is a significant decision as it sets the plans for your overnight stays.
Will you need to stay more nights in one place or will it be OK to go to a new place each day? Do you want to stay in hotels, B&Bs or on campsites? There are some restrictions in the right of public access in Denmark that you should be aware of. E.g. there are some shelters and campsites to be used for free, but for many of these it is advisable or even mandatory to book your stay in advance. You should check this.
Choose the Best Cycle Route
Once you have decided which kind of accomodation you prefer, the next step is do decide what you want to see and explore. Do you want to travel a long distance and spend all day biking? Or would you rather have plenty of time to spend whenever you make a stop? Maybe for an ice cream, a sight or a delicious Danish open sandwich. We all have different approaches. When I go away on holiday I personally prefer to make many short stops and explore the area and its sights rather than being on the road for hours on end riding long distances.

Whether you go for the ice creams, the sights or the exercise and covering as many miles as possible I recommend you choose roads with bicycle lanes as they will give you the safest ride and limit the risk of being hit by busy cars on roads that are not familiar to you. If you are from Britain, you might also find it challenging to not ride on autopilot and to stay to the right on the Danish roads.

I hope you will appreciate the many bike lanes all over Denmark, in the country roads, in towns, villages and in the centre of the cities. Recently super cycle lanes were introduced in cities such as Copenhagen and Odense. If you look for inspiration check out Denmarkbybike which is a brilliant ressource for finding bicycle routes all across Denmark. Once you are on your bike, look out for the blue signposts indicating special bicycle routes. Each route has a specific number, and generally they are quite safe and also scenic. You can combine the routes as you like or simply find inspiration and decide on your personal destination and a route with the particular sights and stops that you will enjoy the most.
Once you have decided on the route and how far to go, it is important that the sights and experiences live up to what you expect.
While preparing, you can google and find some of the fascinating stories about the places you want to explore. If you do not have the patience or the time for such thorough research, I would recommend that you book a local expert on bicycle tours who can reveal some of the fascinating details to you and enlighten your day with specific knowledge about the place. Google will probably not be able to provide this. All you need to do is listen to your guide, pedal along and let the guide show you those places you would not know how to find without spending a lot of time on research. There are many attractive options if you want to visit Zealand with the capital of Copenhagen, the islands Lolland and Funen or the peninsula Jutland which borders on Germany.
Tour de France - in Denmark
You probably know already. The Tour de France will start in Denmark in 2022. If you wish to ride on some of the roads the contestants will be competing, you should go to the cities of Copenhagen, Roskilde, Nyborg, Vejle and Sønderborg. Planning a race like the Tour de France is a huge task and requires effective event management and the crowds will be extremely large. While the Tour de France contestants visit Denmark, the wise decision will be to stay clear of their route but why not visit it either prior to the Tour de France or afterwards, when the Tour caravan and the Tour machine have moved to France to complete the race.

There is one part of the route you will be denied access to when you arrive on your bike, but the rest of it is there for your enjoyment. Except the bridge across the Storebælt, the Great Belt. It is a motorway and on this particular occasion it will it be closed to traffic to allow the Tour de France riders to cross one of the longest bridges in the world. The weather conditions can make this a difficult challenge - it is normal even in summer that there is a gale from the west or northwest. It will be a serious challenge for the contestants, also if the wind should happen to come from the side. But then, it might just be a calm day. You will never know in advance. Denmark is a country where a difference of even 50 km may mean marked changes in the weather.
If you enjoy riding up and down hills, go for Zealand and the eastern part of Jutland. The area around Vejle is a good choice and is also on the Tour de France itinerary. The Vejle citizens of course know this, and each year the local bicycle club arranges the Grejsdal Race in the hills around Vejle and in the Ice Age valley Grejsdal, one of the most beautiful valleys in Denmark. The area offers both some very steep hills and a truly delightful river valley ride. 
Now comes the moment of truth! I hope you feel compelled to make the only wise, intelligent, interesting and environmentally friendly decision, which is to decide on a holiday riding a bike in Denmark. Do you want to find all the information yourself - or do you want to take advantage of a local guide for part of a day or probably even a full day? Whichever you choose: Enjoy your holiday.
Photos
Bicycle by a river. Photo: Mabel Amber. License: Pixabay
Girl by poppy field. Photo: Unknown. License: CC0 1.0