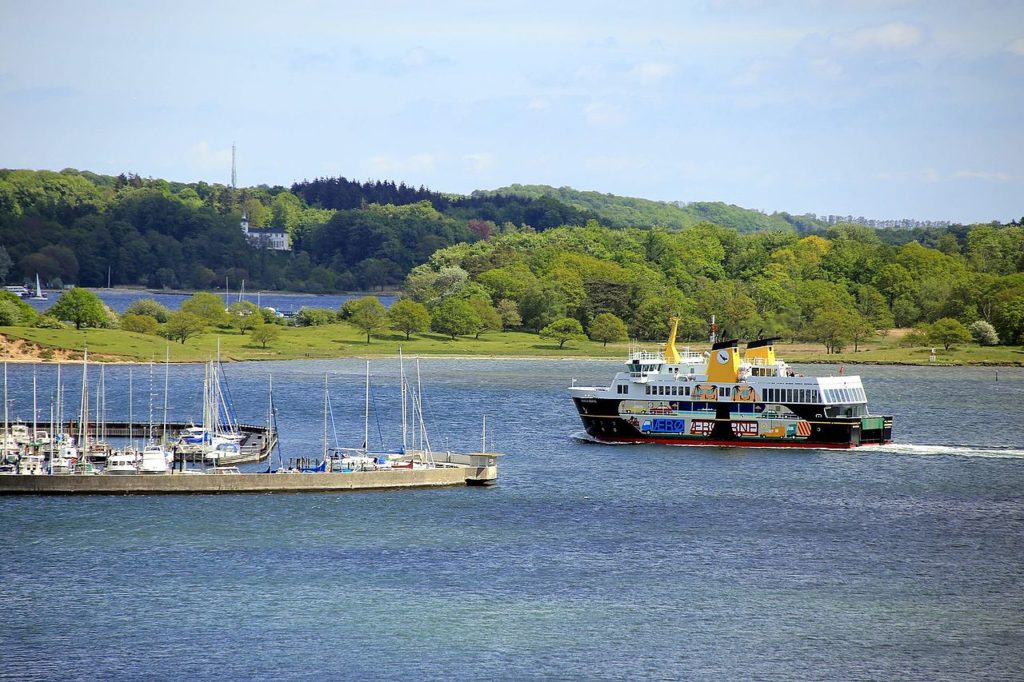 Svendborg - a Charming Town on South Funen
On southern Funen you find the lovely town Svendborg - as an opening towards the South Funen Archipelago. Therefore, the title "Capital of the Archipelago" also seems appropriate for Svendborg. The town also has a long history within shipping, and still to this day plays an important role in maritime Denmark, with its active commercial port and maritime education at Svendborg Maritime School. Plenty of good sights are close to Svendborg.
Svendborg is also the perfect place to start if you want to visit some of the islands in the South Funen Archipelago. The Svendborgsund Bridge connects the town with Tåsinge - from where it is possible to continue to the islands Siø and Langeland, also via bridges. While there are several daily ferry departures from the port of Svendborg towards Ærø. If you want to experience Svendborg itself, the port and harbour is also a good place to start.
Svendborg Harbour - a Place Full of Life and Many Stories
There is no doubt that Denmark has been a maritime nation since the Viking Age. Although there are not many Viking ships to be found in Svendborg, the town has for many years held an important place in Danish shipping.
During the 19th and 20th centuries, Svendborg was thus home to a large number of shipping companies. Not least, it was here that what we know today as A.P. Møller-Mærsk started. Which I will come back to! Because Svendborg's role in maritime Denmark can also be found elsewhere.
Not least at the port of Svendborg - which can boast of being one of the most well-preserved industrial ports in Denmark. Which makes the port a good place to delve into many more of Svendborg's exciting maritime stories. For example, try a historical walk in the maritime town of Svendborg.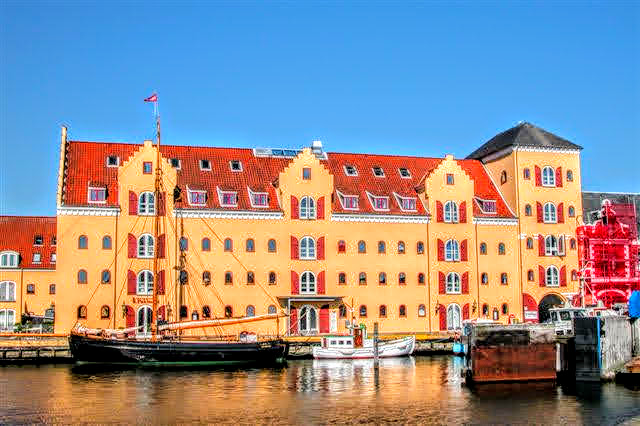 To this day the port still has a central place in Svendborg. Apart from the business life at the port itself, Svendborg Station is not far away. If you arrive in town by bus or train, you will also end up quite close to the port. A lively place - not least in the summer.
From the road that runs along the pier, you can take the side street Frederiksgade, where you will find several pubs and nightclubs. Together with the town's other more scattered pubs, they are the remains from the time in the 1970s, when Svendborg was the Danish town with the most pubs per inhabitant. An interesting historical time and detail for the port that in itself is worth hearing more about.
The Maersk Group was Founded in Svendborg
As mentioned, you cannot talk about Svendborg's place in Danish maritime history without mentioning the founding of A. P. Møller-Mærsk A/S. Although many years passed until the company actually got that name.
It all started when Captain Peter Mærsk Møller settled down with his family in Svendborg in 1884. Two adults and ten children, in a small villa that was named "Villa Anna" after the lady of the house. But even though the home was already crowded, it still functioned as a workplace.
Thus, in 1904, Captain Møller, together with his son, Arnold Peter Møller, started Dampskibsselskabet Svendborg A/S. When A. P. Møller died in 1965, his son Mærsk Mc-Kinney Møller took over the role as CEO, and held it until 1993. It was under him that the company really expanded.
Later, in 2003, the Maersk-owned shipping lines were merged into A. P. Møller-Mærsk A/S - a worldwide shipping group known as Maersk.
Although Mærsk Mc-Kinney Møller was not born in Svendborg - and has never lived there - the town was very close to him. And to this day the Mærsk group still has a large branch in Svendborg.
With the great connection Mærsk Mc-Kinney Møller had to Svendborg, the town council therefore decided somewhat extraordinarily to make him an honorary citizen in 2001. It was an emotional Mærsk who accepted the honorary citizenship, with anecdotes about the fantastic memories he had created in Svendborg throughout his childhood and youth when he visited his father's family.
Martha's Day at the Stock Exchange
The maritime history also spreads down to one eatery in particular in Svendborg's pedestrian street. Because at Børsen you can eat your lunch - or enjoy a drink - in the Martha room. Named after the Danish folk comedy Martha from 1967, which over time has achieved cult status. Not only does Børsen have a room named after the popular film, but the restaurant also hosts the "Martha Day" every year. An event that has taken place on the first Saturday in May every year since 1994. Over 250 sailors and hardcore S/S Martha fans meet here for a joint celebration of the film - which is of course also shown in the Svendborg Scala cinema.
In 2020, this tradition became nationwide. As the corona pandemic put an end to the event being able to take place in the pub the celebration became virtual. Nordisk Film let Martha be freely available on their streaming service Dansk Filmskat, for a day, so that Martha Day would not have to be cancelled.
Svendborg Film Festival
Martha is not the only film that is closely connected to Svendborg. Over the years, the city has been the backdrop for several Danish films. E.g. the Tomas Villum Jensen's comedy Solkongen (2005) and Susanne Bier's drama A second chance (2015). They were both hits with the audience. If you are familiar with Svendborg and its surroundings, it is not difficult to recognize many of the film locations. Solkongen in particular really manages to showcase many parts of the town.
The latest Danish film to be shot in Svendborg is Madklubben from 2020.
But Svendborg would also like to pay tribute to Danish films. That is why Svendborg holds the Svend award party every year in collaboration with FilmFyn - where the Svend of the Year is awarded. The award ceremony follows the Svendborg's film and culture week, which takes place every year at the end of August.
Svendborg's Museums and Cultural Spots
Svendborg has a rich historical and cultural life all year round. Every year at Svendborg Theater during the summer period you can experience the Svendborg summer revue - better known as the Rottefælden, the Rat Trap. The revue was first performed in 1881, which makes it Denmark's oldest. In addition, Svendborg Theater hosts everything from plays to stand-up shows all year round. So there is always something to see and experience.
If you walk down the street Skolegade, which is right next to the theatre, you will reach Svendborg's natural history museum - Naturama. Here the whole family can experience Nordic animals in the large three-storey museum. On the top floor all the birds are on show, on the ground floor you will find all the ground animals. Have a guess which animals rule the basement.
If you are instead looking for history where people are at the centre, Danmarks Forsorgsmuseum, Denmark's Welfare Museum - housed in Svendborg's old poorhouse - is definitely worth a visit.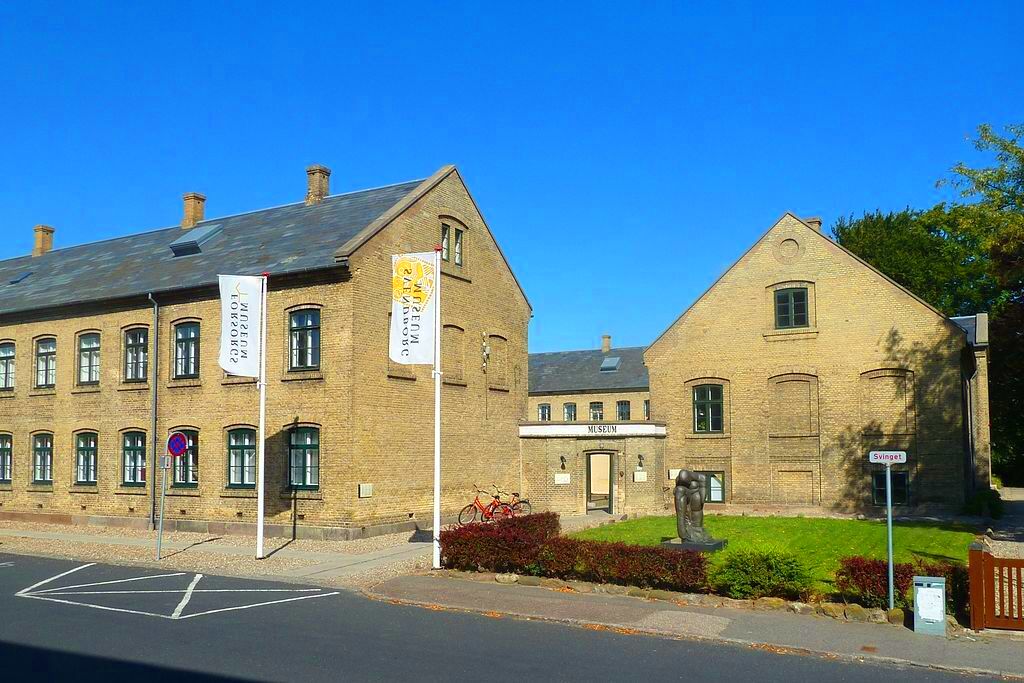 Here, the poorhouse from 1872 forms a good setting for the stories about Danish social history. Which helps make the visitors feel the conditions as they appeared to the people who lived at the bottom of society.
The Tragic Love Story of Elvira and Sixten
Another interesting story from Svendborg's surroundings is the story of Elvira Madigan and Sixten Sparre. A young couple who lived in Svendborg for a short period in 1889, and who are reminiscent of Shakespeare's Romeo and Juliet. Like Shakespeare's young lovers, Sixten and Elvira were doomed to tragedy. As Sixten was a Swedish officer from a noble family, Elvira was a poor line dancer in a traveling circus. With two such very different social backgrounds, a betrothal was not an option for the young lovers. That's why they committed suicide in Nørreskoven in Tåsinge.
Their shared grave at Landet Kirkegård in Tåsinge is today often visited by tourists. Here, there is often someone who wants to lay some flowers as a replacement for the bridal bouquet Elvira never received. If you want to know more, you can take a guided tour of the place where it all happened.
Street Art in Svendborg
If you've had enough of shipping and history, you can explore the more artistic part of Svendborg. Because the town has a very special relationship with street art.
Back in 2009, Svendborg Municipality had graffiti painters perform their art in selected bicycle tunnels around the municipality. It was a huge hit - and the selection of locations has since been expanded. Therefore, in Svendborg there are good opportunities to see graffiti street art, made by members from Svendborg Street Art Forening, the Svendborg Street Art Association.
One of the really good places to see street art is the old shipyard building by Frederiksø. Here the graffiti painters have been allowed to decorate the 15 meter high wall with their art. And since there are no rules that you may not paint over other people's graffiti, there are good opportunities to see new graffiti art if you stop by several times during the year. The combination of graffiti, together with the town's older houses and sculptures in a more classical sense, also gives an exciting and varied cityscape.
Svendborg and its surroundings are therefore full of good stories - and are rich in culture and history. Here you will find something for every taste and interest. Much of what lies within the town itself is easy to get around and see by foot, while much of what lies outside the town limits is no more than a bike ride away. With the many stories within different areas, a guided tour is an excellent way to experience Svendborg - so you get to experience it all.
We are happy to say visit Svendborg with Guide Service Denmark and our guide service Funen.
Photos
MF Ærøskøbing. Photo: Kåre Thor Olsen. License: CC BY-SA 4.0
Det Gule Pakhus, the Yellow Warehouse, Svendborg Harbour. Photo: Erik. License: CC BY-SA 3.0, color adjusted
Svendborg Forsorgsmuseum, Denmark's Welfare Museum. Photo: Nol Aders. License: CC BY-SA 3.0, color adjusted