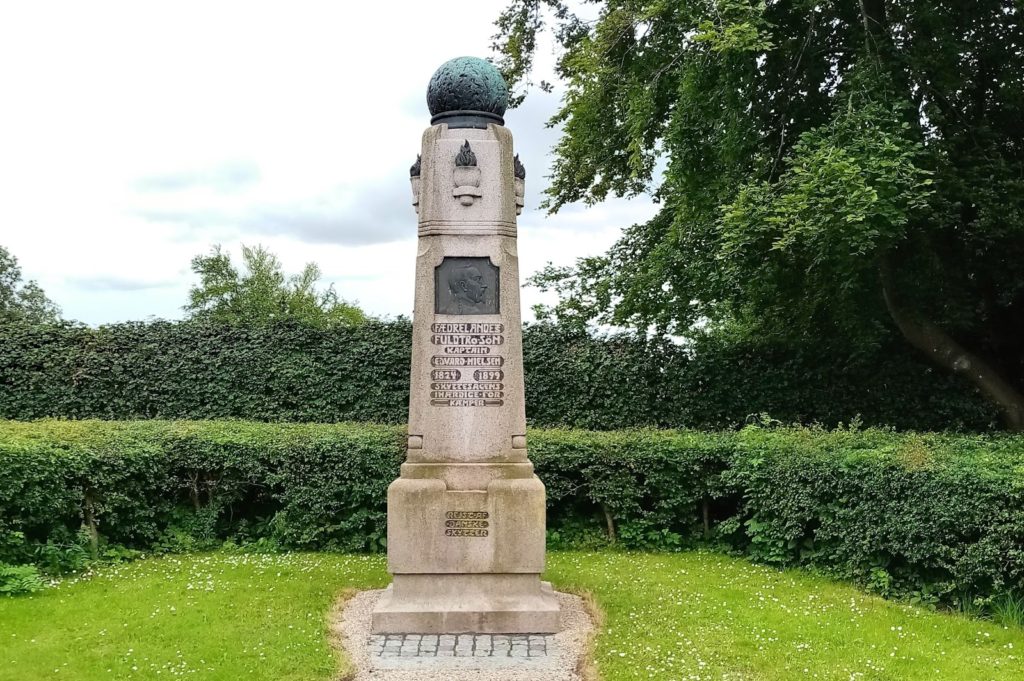 Small Attractions - Big Stories
Captain Nielsen was a national patriot who risked his life, was wounded in war and bled for his beliefs. This is a little bit about him and a lot more about small sights and the big stories they sometimes hide.
This is a humble tale of a very small attraction in the Danish countryside. The memorial is about 4 metres high and about 1½ metres wide and stands on a small lawn, far out in the countryside, in the middle of Funen. Today it is a place rarely visited by anyone other than local residents. This is a story of morality.
Eternal Fire
Unless you were born or have family there, you are legally excused if you have never heard of Trunderup. And here in Trunderup there is a memorial stone to Captain Edvard Nielsen. It was made in 1906 by the artist Siegfred Wagner.
It's not really a normal memorial stone. It's a small monument, almost like an obelisk, and it's a work of real care. There is a beautiful bronze dome at the top, covered with bronze oak leaves, a symbol of fidelity and honour. Also cast in bronze, four torches burn with an eternal fire and then there is an inscription. Finally, there is a bronze relief showing the captain in profile.
Time Cuts all Connections
This memorial is not a random small stone commemorating one of the local chiefs. It is in fact a fine piece of work, a well thought-out design of high artistic quality, which has stood there since 1933, on the small lawn, well placed and in the centre of the town, directly opposite the consumer's cooperative. The site was chosen with care, but all the splendour and glory of the world was lost. The road had to be widened, the stone was moved to its current position. The grocery store also had to close many years ago, and today the road comes to a dead end. At the time the memorial was placed, it stood almost in the centre of Funen. Back then, many people passed by every day. Today, the road no longer connects anything. The motorway has cut it off about 1 kilometer further on.
Search for the Missing Stone
Few people know about the place, apart from the locals and the employees who come to mow the grass and clean the pillar from time to time. It's a shame, really, because the memorial stone is still standing after more than 100 years, a little gem of cultural history. It is also a reminder of the political struggle at a difficult time in Denmark's history. Many threads run together in the story of Captain Nielsen and his life and endeavours have unfortunately become topical again. It is these threads that make the memorial much more than a nice old stone, and that there is a very good answer to the question "Why is it standing there taking up space?" One reason is that the anniversary of Denmark's reunification in 1920 has given Captain Nielsen's life a renewed interest and relevance.
A Hero - Even Today
Peter Edvard Emil Nielsen was born in Odense on 17 April 1824, the son of a master carpenter. In March 1848 he volunteered for the army and quickly rose through the ranks. Within a month he was a corporal, and after two months a second lieutenant of the line - something that is almost unheard of. He took part in the fighting at Fredericia and was seriously wounded.
After promotion to First Lieutenant in 1849, he also took part in the Battle of Isted, where he was again seriously wounded. He then continued as an Officer in the army and participated as a Company Commander in the war of 1863-64. Fortunately, there were no more wars during his lifetime. He continued as an Officer until he was discharged from the line in 1879 at the age of 55, but he continued in the reinforcements, reaching the rank of Lieutenant Colonel in 1887.
But enough about Nielsen's military career - because this memorial is not about the fact that he was a good soldier or a hero. This story is about the political work he did to promote the national "skyttesag" - members of the association would practise shooting and do gymnastics to stay in good physical shape. And exactly why is this so interesting?
Because Nielsen bleeds for what he believes.
Longest Continuous Period of Peace in Danish History
Today, we are living in the longest continuous period of peace in Danish history. It has now lasted for more than 75 years.
The world Captain Nielsen lived in was not like that. In 1815, the Danish Crown had to cede Norway after fighting tooth and nail for many years to prevent it from getting to that point. And it was a political disaster when it finally happened.
35 years later, the Duchies were in turmoil. Between 1848 and 1851, there were three years of civil war, during which the rebels received support from abroad. Although the Danish army was initially victorious, it would take only 12 years for the war to return. This time with the result we all know:
The Battle of Dybbøl
- in 1864, symbolises the futile, heroic struggle against a crushing superior force. The outcome was never really in question. Only fanciful, unrealistic politicians hoped that Britain would intervene in favour of Denmark.
The 2nd Schleswig War of 1863-64 did not come as a surprise, however, because the national divisions in Schleswig and Holstein had not been resolved. They had been swept under the carpet after three years of strenuous military endeavour. To be as strong as possible, it was not only important to have the moral support of the general population. More was needed.
People also had to be prepared for the possibility of having to pick up a gun, put on a soldier's uniform and move to defend the borders of society. And that there would only be a short warning before the trouble started. If young men were trained in the use of weapons and prepared for what to expect, they would have a better chance of survival.
And after 1864, the view was that Denmark's next war risked being its last. The will to defend is not enough, there must also be the ability to do so. Once you could see the black clouds approaching, it was too late. There would no longer be enough time for training and education. Perhaps this view is still valid.
Denmark's First Shooting Association
Sports and guns are better for society? Nielsen says yes!
In other words: timely physical training and basic training in the use of weapons was the way forward. This meant focusing on gymnastics and shooting clubs. In this way, the scarce resources and forces could be optimally utilised, as it was not possible for Denmark to maintain a large standing army.
It was in this area that Captain Edvard Nielsen made the contribution for which he has been honoured with the beautiful stone pillar - the one that today has ended up standing aloof and overlooked. Not only was he involved in helping shooting associations in North Schleswig in the years before 1863-64, he was also the man behind the establishment of the first shooting association in the kingdom. It was located in Svendborg.
Unfortunately, the concerns of the captain are no longer outdated. The work the captain did has not become redundant today. Denmark is too small to raise a large army and defend itself. But you can maintain knowledge of the use of weapons in the population, which is why the Home Guard was set up after World War II.
And like the memorial to the Captain, the Home Guard has also become a bit of an outsider in Denmark today. Conscription is important in the constitution, but not much in society. Danish defence is not large and many years of small groups of conscripts means that there are only a few citizens in the Danish population who are able to serve in the armed forces. And by that I mean people who know something about basic weaponry and have the competences to act and contribute to the defence of the country in case of an acute crisis.
Having Your Story Told
When travelling around Denmark, it is very unlikely that you will stumble across this story of Captain Nielsen. Even if you were lucky enough to happen to pass by the memorial and the discreet place where it now stands, it would take more than ordinary luck to discover that just 3-4 kilometres away there is even more. In Ryslinge, there is not only one of the large old folk high schools, which for over 150 years has worked to communicate the national cultural heritage.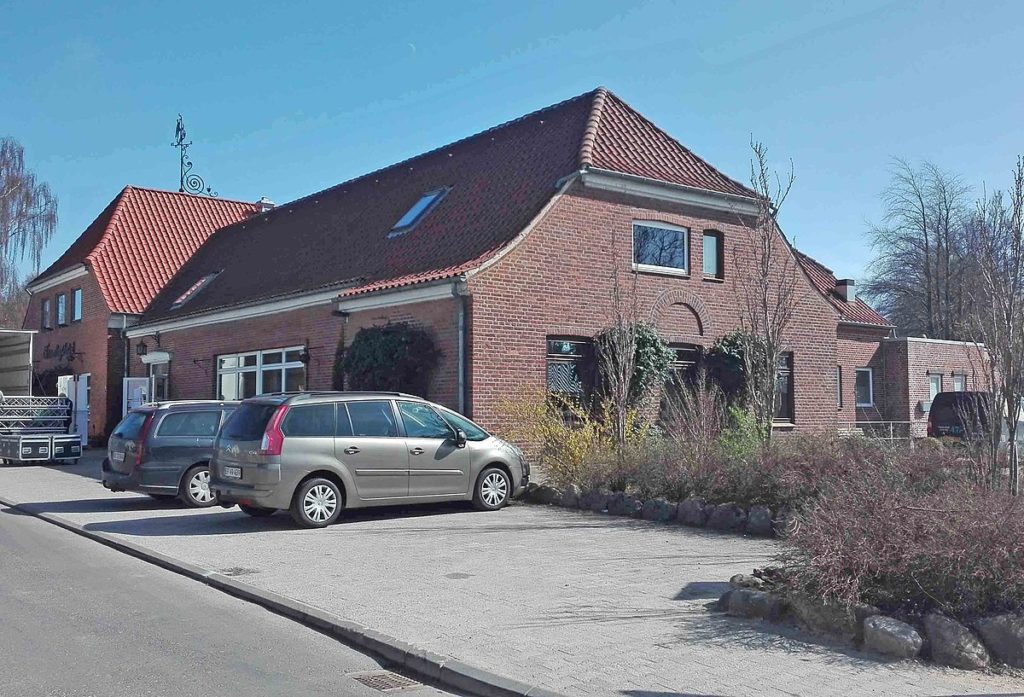 Ryslinge also has one of the country's largest community halls from that period. So large that it was also used as a training centre by the shooting association. This is how culture, nation, popular education, the defence cause, democracy, history, religion, sport and the use of weapons all merge into a higher unity. It hardly gets more Danish than that. And it raises a difficult question: how can it be good for society today that fewer and fewer ordinary citizens in Denmark have the know-how to defend their country? Surely it requires more than fitness and a healthy diet.
The captain believed it was important for as many people as possible to help with the lifting, but of course he was living in troubled times. Where is the correct balance today? Today, almost only the people from "Park og Vej," maintenance people of the municipality, know about his memorial. Does he deserve to be remembered better?
There are many places where good stories can be found. Fortunately, not all of them have such a serious background as the one hidden in the large community hall in Ryslinge and in the memorial stone for the captain on a dead end road in Trunderup. Should you happen to pass by Gamle Nyborgvej 83, you now know what is necessary to appreciate what the memorial stone is about. Perhaps you can take the opportunity to drive the 3-4 kilometres to Ryslinge and take a walk through the atmospheric garden of the folk high school?
We are happy to say visit Funen with Guide Service Denmark and our many guides.
Photos
Captain Nielsen's Memorial. Photo: Lars
Ryslinge Community Hall. Photo: Beethoven9. License: CC-BY-SA-4.0