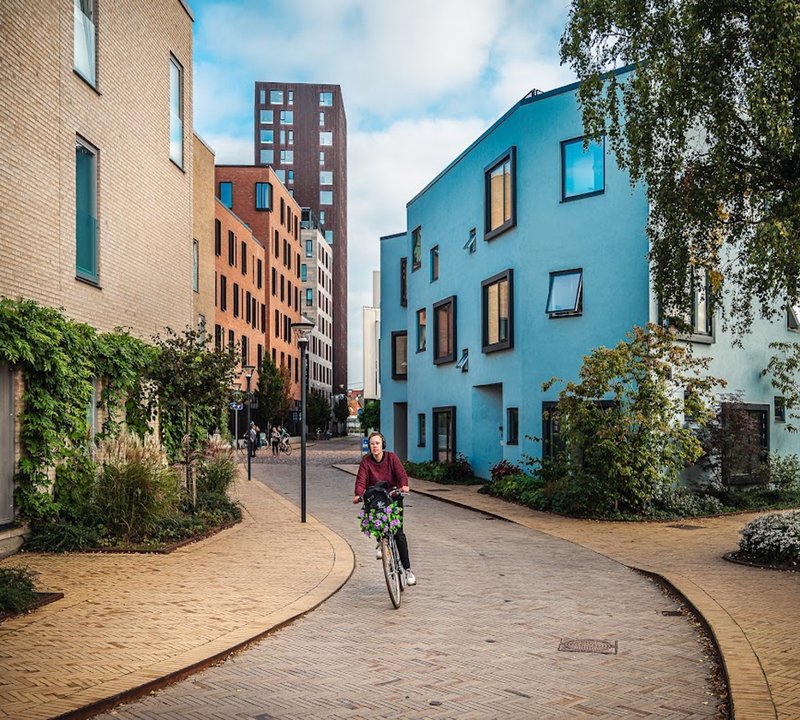 The Joys of Being a Student in Odense
The winter cold has long taken hold of the small thatched houses on Funen, where the cold is nevertheless kept out by old-fashioned Danish cosiness. The calendar reads 1875, and words that have started their journey from thought to stories fill the room.
Dear old, Native Town
You occupy my Mind.
Odin proudly built the Castle against the sky
on the Næsbyhoved Bank;
houses grew, first two, then three,
then more, wherever you were.
And Frigge cried out: "Odin, see!"
That's where the town got its name.
The words are of Hans Christian Andersen, and although Odense is much more than the beloved author, it's a good place to start the story of this old city on Funen.
It is a city whose origins lie in a different time from our own. It was a time of Asatro and where stories were great, but not necessarily well told. Stories, however, do not always have to be old. The contrast to this story is thus also obvious. Odense today is a city buzzing with youthfulness, and the desire for renewal is strong and unmistakable. Roads and streets are being future-proofed with roadworks, light rail construction and the building of youth housing. The need for more youth housing is testimony to the direction in which the capital city of Funen is moving. Being a student in Odense isn't bad at all.
The Path of the Youth
Most of us have experienced being the new kid in class. Excitement and nervousness go hand in hand when you embark on a new chapter in your life. As a recent graduate from SDU, it's a feeling I still remember vividly from when I started my bachelor's degree in International Business Communication five years ago and my master's degree in Journalism two years ago. It's a feeling that thousands of people get every year when it's time to start their studies. So it's definitely not a feeling you're alone with in Odense.
Denmark's third-largest city is a student city with a capital S. According to a 2019 survey, only Copenhagen is a more popular place to realise your educational aspirations. The question you might be asking is what makes Odense such an attractive student city?
An Attractive Student City
Odense favours young people and students. So much so, in fact, that 15% of the city's population are students. One of the reasons may be found in the city's location in the centre of Funen. Odense is a hub for newcomers. Whether you are from Copenhagen, Aarhus or Esbjerg, there is a short way to an SU-friendly rent in Odense. And an affordable rent as a student in Odense is by no means all the city has to offer. With a unique roof-over-the-head guarantee, incoming students have an emergency solution if their dream home has not fallen into their hands before they start their studies.
Hans Christian Andersen's hometown has a lot to offer as a student city, whether you're looking for a night on the town, cultural content, hangout spots, sights and attractions, or a guided tour through the historic centre. And if there's one thing that rhymes with student life, it's socialising. As Grundtvig once said: "it is so marvellous to walk together". Let's together walk through some of the things that make Odense a great place to be young and a student.
A Bike is All You Need
A bicycle. That's all you need to see Odense, and with your bike you can go a long way. Not just physically and spiritually, but also in terms of the diversity of culture and nature you can encounter. Odense has a lot of cultural experiences for young people, packed into a manageable area - and you can visit many of them without having to take your wallet out of your pocket. Let me give you a youth-inspired virtual guided tour through the streets and alleys of Odense. If you want a living guide to places, you can get inspired here in Guide Service Odense.
Sailing up the River
My virtual guided tour starts in one of the city's many green areas, the park Munke Mose. Around the green areas, which are completely crowded every summer, the Odense River snakes along at high speed. Here you can go on a river cruise, hire canoes and pedal bikes, or simply enjoy the refreshing sound of trickling water.
Few people know that, it was in Munke Mose in Odense that Lauritz Stephan in 1895 wrote the text for "Vi sejler op ad åen" (Sailing up the river), a commonly used song for watching Denmark's national football team play. Back then, the river was also often flooded in winter. This meant that there were good opportunities to go ice-skating.
14 years before Lauritz Stephan's writings, Odense Municipality had bought the land from Munke Mølle's factories because they did not want to build in the low-lying marsh and meadow area. This has turned out to be a very good decision. As a result, there are now spaces and opportunities for outdoor recreation and cosiness. This is also where you will find cafés, several of Odense's many beautiful sculptures and Saabyes Stryg, which is a fish ladder from 2008, good for both drinking a cup of coffee and benefiting the aquatic life in the river.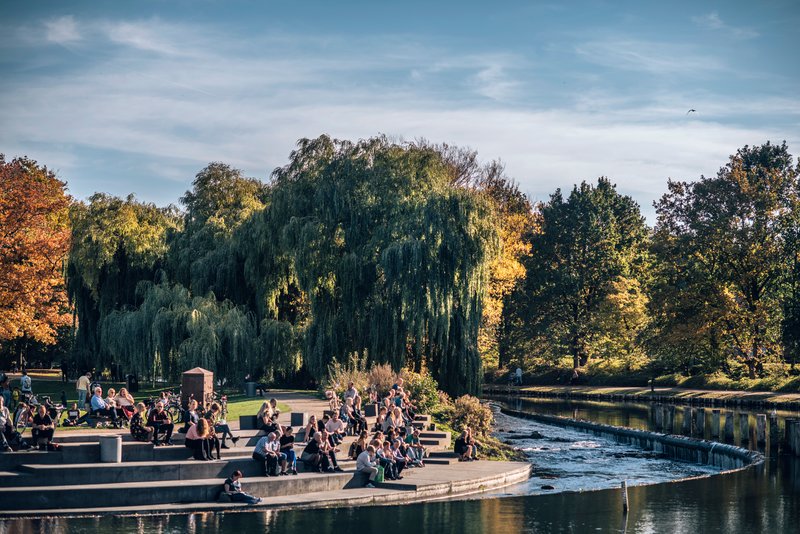 A Bed of Roses, but not a Smell of Roses
From Munke Mose, the city walk continues to Rosenbæk Square in the heart of Odense. It is named after the small Rose Creek that runs through the centre of Odense, starting at Brandts and ending at the square. But the square doesn't smell of roses at all. It's a piece of architectural urban renewal, but the Rose Creek itself dates back to the Middle Ages, when it served as the northern border of the city and part of the fortifications. As the city grew, the brook became increasingly polluted and for hundreds of years it functioned as an open sewer, where it even got the name "Lorterenden," the shit gutter. A name that was later - much sarcastically - changed to Rosenbækken, the Rose Creek.
On the square is Theatre 95b, with weekly open mics. Most people will probably feel that their inner comedian is better suited to private parties with friends, but luckily there is no expectation for you to get up to make the other guests laugh. You can simply go to the happy hour bar and then continue to the back row. There's room for diversity and plenty of opportunities to put a smile on your face.
Odense Studenterhus
By following Rosenbækken, you will arrive at Amfipladsen. The square is beautiful, charming and iconic, and it creates great opportunities for people to socialise. In addition to being part of the heart of Odense's cultural centre and community hub, you'll find Odense Studenterhus here. With the motto "By students, for students", it is an obvious place for students in Odense to spend their time, whether you are looking for a place to write the last glosses of your science theory exam paper or you just need a cheap cup of coffee with your fellow students. In addition to being the central meeting place for academic student life, they are also open when it gets dark and you've got your dancing shoes chalked up for a night out on the town. Studenterhuset serves as a great warm-up location, serving beer, drinks and shots galore.
Drink a "Dato"
And speaking of beer galore, the virtual tour guide in Odense continues to one of the bar scene's most important institutions in the city. In Vindegade is the bar and pub Viggos, which has almost achieved cult status among Funen beer enthusiasts. Here you can rafle, have Friday beers and socialise with friends. But the reason for Viggos' cult status can be found in the "dato", date, concept. Completing a date is simple. Drink 10 large pints without throwing up, falling asleep or getting help from others. As a prize, you get your mug retired, engraved with your name and hung up in one of the pub's many dark corners.
You may think it sounds crazy. The fact is that more than 100,000 dates have been drunk and there are just over 11,000 mugs hanging around the bar. True Odenseans say that as a newcomer, you've only really settled into the city once you've completed your first date.
Culture in the City
"Culture is fuel and fire in the butt, an inability to sit still, but to be constantly moving, to find the beat not in the rhythm of the steady beat, but in the great indeterminate rhythm that is our common ground".
The words are of Klaus Rifbjerg. For many years, he was a prolific and recognised Danish author, journalist and social provocateur. The words can be understood in many ways, but that's the charm of culture - it's not always understood in the same way. One thing you can be sure of, however, is that there are plenty of cultural offerings and activities in Odense.
The virtual city walk through Odense can also have its origins in the more cultural connoisseur segment. I'll start with a trip to Odense Theatre. As a young person or student, you can get an annual pass at a particularly cheap price, just DKK 380 per year. The beautiful theatre by the King's Garden is Denmark's second oldest and was founded in 1798. Many great actors have made their entrance on the big stage here. In recent times, actors such as Hella Joof, Nicolaj Kopernikus, Klaus Bondam and Thure Lindhardt among many others, but also the city's own pride and joy Hans Christian Andersen has been an extra at the theatre.
New and Innovative Museum
Hans Christian Andersen is still contributing to the culture of Odense 150 years after his death. It is possible, among other things, to walk in his footsteps, which are physically emphasised in the sidewalks around the city, while both his childhood home and house serve as museums. You can visit both. The latter has undergone a major renovation, creating a 9,000 square metre indoor and outdoor museum. The ambitions are certainly not small. The museum's director hopes that the beloved author's old house will become a top 5 attraction in the world. A testament to the fact that even long after he stopped writing great stories, he can still create a great adventure.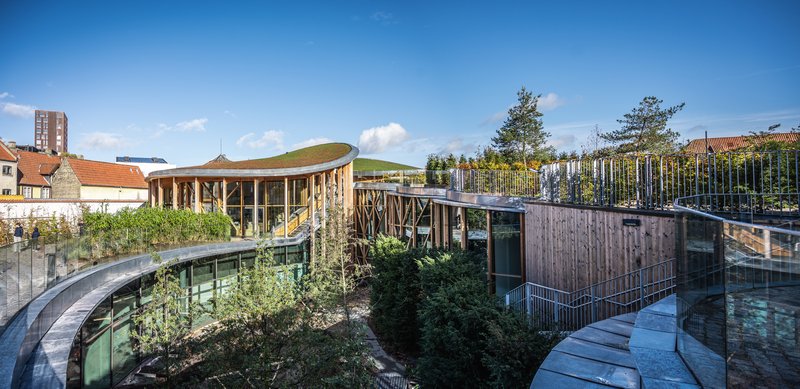 The Striped Odense
Not far away, the ambitions may not be quite at the same level, and then again! A great responsibility rests on the shoulders of "the striped ones", as Funen's largest football club, OB, is called. OB started as Odense Cricket Club in 1887 and changed its name to OB two years later. OB have 3 Danish championships to their name and are also known for the "Miracle in Madrid", where they sensationally knocked Spanish giants Real Madrid out of the UEFA Cup in 1994.
The Stripes are always worth a visit if you're a football fan. You'll recognise the team by their blue and white stripes and the club plays in the country's top league, the Superliga. On a good day, you can be part of the 15,790 supporters that Nature Energy Park can accommodate.
Odense Zoo
You'll also find stripes everywhere in the animal world. Odense Zoo dates back to 1930. The director of the zoo at the time, Christian Jensen, created the framework for all kinds of wildlife. Today, the zoo is one of the biggest attractions in Odense. The zoo, which previously also included both a circus and a funfair, is beautifully located on both sides of the Odense river with two footbridges connecting the sides. The wildlife is so diverse that one moment you can feel the biting cold that penguins love, the next you can be standing on the Funen savannah where giraffes and zebras reside. It's a great place to take your family when they come to visit. Change your daily routine from your dorm room to look the camel in the eye, hear the tiger's roar and laugh at the penguins' cute falls on the ice. There's lots to do.
Your virtual guide through Odense ends here. But Odense has much more to offer than you can write about. If you're looking for a a live guide, there are many great guides to choose from. Odense is much more than a virtual story. Odense must be experienced in person.
Photos
Odense, City of Cyclists. Photo: Jonas Legarth. Licens: VisitOdense
Saabyes Stryg, Munke Mose in Odense. License: VisitOdense
Hans Christian Andersen's House. Photo: Jonas Legarth. Licens: VisitOdense