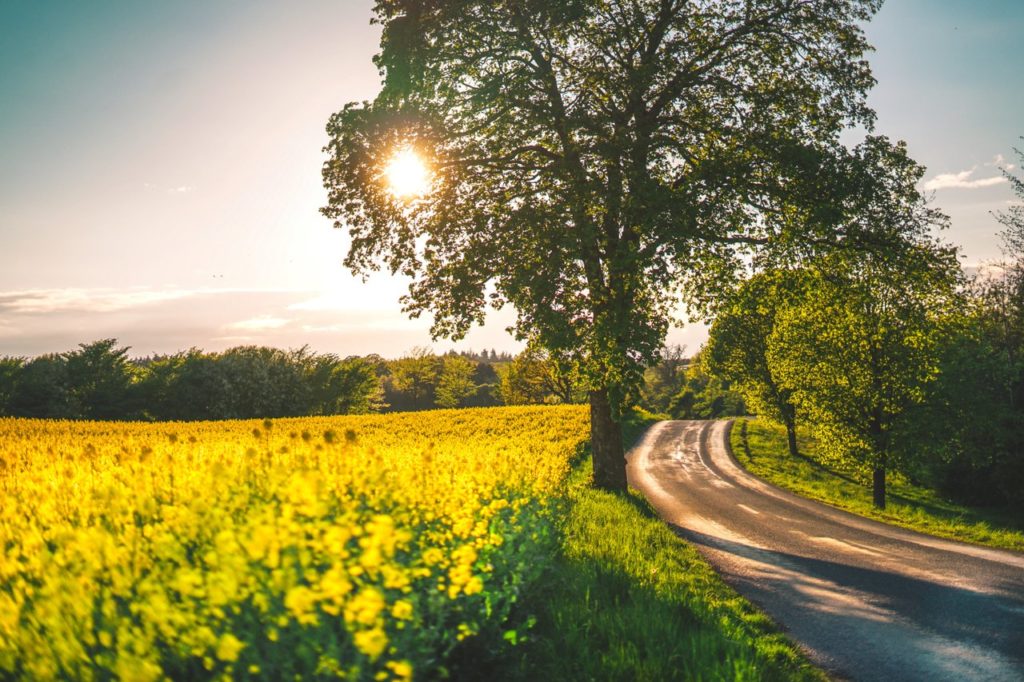 Zealand, Much More than Copenhagen
Danes are prone to lump everyone together. When travelling around the country, you often come across these stereotypes. It is Copenhageners, in fact, who often fall victim to some of these stereotypes. Or, in other words, it is actually the people of Zealand who are the victims. After all, how often have Zealanders heard that they are Copenhageners - even if they live an hour away?
However, Zealand is more than Copenhagen. Much more, in fact. Zealand has beautiful nature, lots of history, and fantastic experiences that you can't get anywhere else in wonderful Denmark. I'll tell you a bit about some of the opportunities Zealand has to offer. While Copenhagen is a beautiful city, people from Korsør would hardly be called Copenhageners, just as an inhabitant of Esbjerg would not be called an inhabitant of Aarhus.
Enjoy your reading - and welcome to Zealand.
A Vital Bridge
The Great Belt Bridge, Storebæltsbroen, was built a long time ago and will forever stand as a link between Zealand and the rest of Denmark. It is a piece of Denmark worth seeing and experiencing.
Opened in 1997, the bridge stretches for 17 kilometres, divided into east and west sections, with the island Sprogø in the centre. The suspension bridge is particularly recognisable. The free span between the two high pylons is 1,624 metres long, making it the fifth longest of its kind in the world. At its highest point, the bridge is 70 metres above the water surface, while the pylons carrying the cables are 254 metres high. This makes the Great Belt Bridge one of the tallest structures in Denmark. Did you know that the bridge can be seen on the Danish DKK 1,000 banknote? The trip across the bridge is unavoidable if you are travelling from Funen and Jutland eastwards to Zealand. Enjoy the trip across the bridge, it is a marvellous construction.
Mead and Axes at Trelleborg Castle
The first stop on my journey across Zealand is the Viking Castle of Trelleborg, situated on a narrow headland surrounded by rivers on both sides. A location that has made it almost impregnable. Trelleborg is located about 6 kilometres west of Slagelse and consists of an inner rampart and an outer rampart called a bailey. The bailey is special to Trelleborg. None of the other castles from the Viking Age had traces of an outer fortification.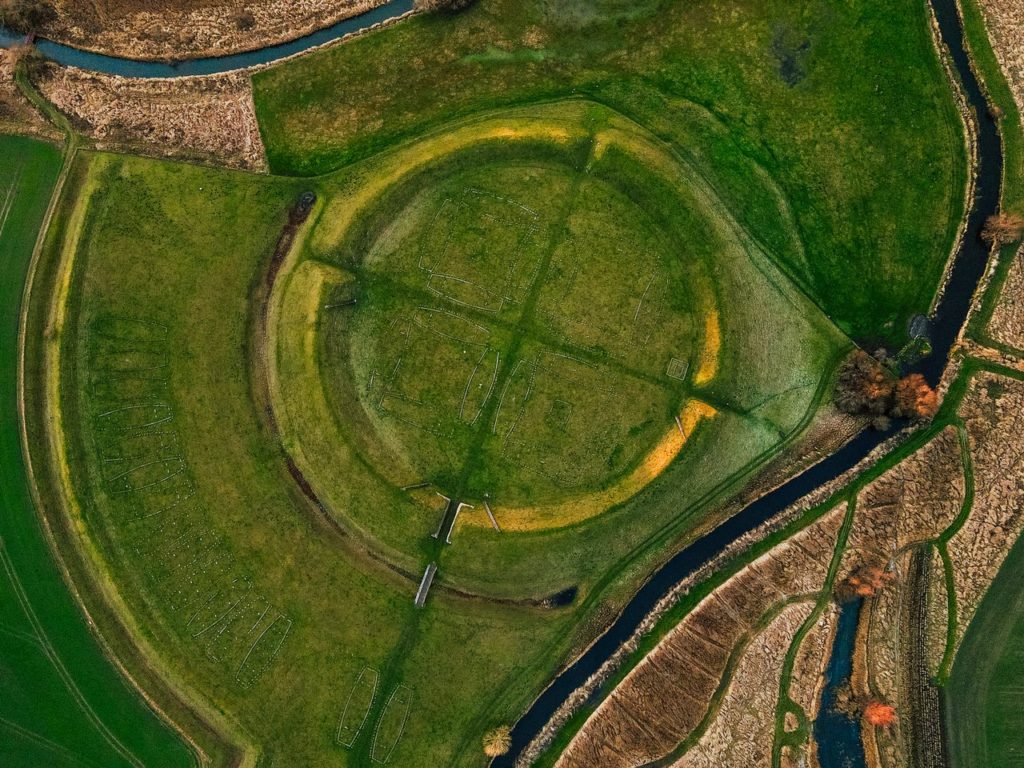 Trelleborg has been tested by dendrochronology and dated to the year 980, when it was built by King Harald Bluetooth. For the last 25 years it has been a museum. If you're into Norse mythology, you've seen the series "Vikings" or you just love history and culture, the Viking Museum Trelleborg is a great place to spend your time. Here you can explore 16 longhouses, four in each part of the castle. You can also see traces of a further 15 longhouses outside the ramparts. You can explore the 1,000-year-old royal castle, hunt for Trelleborg's treasures and wield a Viking warrior's sword, spear or axe. During the summer, you can meet "real" Vikings who will tell you about Viking life, and you can bake flatbread, shoot a bow and arrow, cast jewellery or forge a knife.
In other words, there's something for everyone and it's a terrific place to bring out your inner child.
Eastern Europe has Changed
The next stop on my Zealand tour is on the other side of Slagelse. As with Trelleborg, I'm focusing on the history. While Trelleborg's history goes back 1,000 years, this time we only have to go back to the Cold War period.
At the Panzermuseum East, you can let your inner war historian run free. The 4500 m2 halls are packed with Soviet equipment such as wheeled armoured vehicles, tanks, helicopters and much more. In fact, it is the largest private collection of military vehicles from the Warsaw Pact in Scandinavia.
The museum's aim is to present the entire Cold War period from around 1950 to the dissolution of the Soviet Union in 1991. The angle the museum has taken, however, is slightly different. The angle is 'What could have happened had the Cold War turned hot and the Soviet Union taken over world domination'. The museum therefore displays items that were necessary for an invasion of Denmark.
It's a thrilling and slightly terrifying experience. It really makes you realise how different our country would be if an invasion had taken place. It has a doomsday feel to it. At the museum, they also realise that it would only be everyday life for those of us who had survived a Soviet nuclear attack.
You can experience propaganda films, war machines and informative exhibitions about the Danish civil defence, to name just a handful of things. It's certainly an exciting experience if you remember the fateful years of the Cold War and have ever wondered "what if?".
"The King is Dead - Long Live the King!"
I'm staying within the realm of history on the third stage of the virtual tour of Zealand. This time it's Roskilde. Whether you are religious or not, churches have a curious attraction for people. That's why I stop at Roskilde Cathedral. It is one of the most important churches in Denmark, if not one of the most important monuments of all, due to its unique connection to Danish history and its beautiful architecture. Something that has led to it becoming a UNESCO World Heritage Site.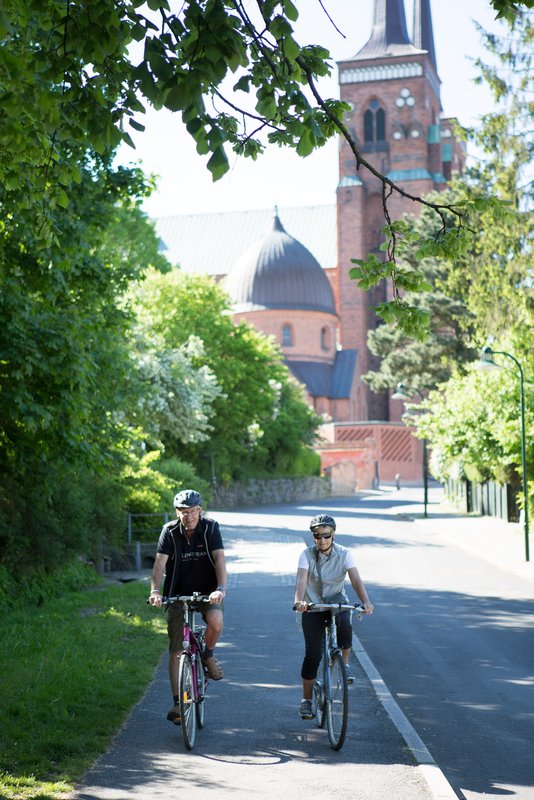 The cathedral is the first Gothic cathedral in Scandinavia made of brick. It's a marvellous place to see the development of European architecture through the ages. According to Saxo Grammaticus, Harald Bluetooth built a wooden church in the 980s on the site of Roskilde Cathedral. His son, Sweyn Forkbeard, is said to have extended the church and both are believed to be buried there. However, neither grave has been found. Recent research suggests that the church was first begun around 1200 and that it was almost complete when it first burned in 1282.
While it is still uncertain whether the two aforementioned kings are laid to rest in the church, there are quite a few kings and queens who certainly are. Among the most famous are Margrethe I, Christian III, Christian IV, and our current Queen's parents, Frederik IX and Queen Ingrid.
Whether you're religious or not, a visit to Denmark's perhaps most influential church is well worth a visit. The architecture alone makes the trip worthwhile, but the many moments in Denmark's history that have taken place here also make it a must-see.
A Historical View of the Swedes
The last historical stop on my virtual guided tour is in North Zealand, specifically Elsinore. On the narrowest point between the Danish and Swedish coasts, Kronborg Castle soars into the sky. The old Renaissance castle is a magnificent sight, illuminating the coastline with its towers, columns, spires and green copper roof. Kronborg is a stunning castle and is the second stop on my tour of Zealand that is a UNESCO's World Heritage Site.
For more than 400 years, the castle was the headquarters for the collection of the Sound Dues. All ships calling at the harbour of Copenhagen, among other places, had to pay the Sound Dues, and Kronborg had its heyday at the end of the 16th century. With huge and slightly menacing cannons pointing directly at the ships, it was a simple matter for the king to collect the toll. He spent the money on beautifying the castle to a degree that made it one of the finest Renaissance castles. A fire in 1629 and the occupation and plundering by the Swedish Charles Gustav in 1658-1660 stripped away some of the opulence, leaving the castle as a fortress and military barracks.
But that doesn't take away from the fantastic atmosphere you can experience today. Hundreds of thousands of people visit the castle every year, and for good reason. Great views, interiors, design and moats are just some of the reasons. Of course, you should also go down to the basement and check if Holger Danske has woken up. I hope that doesn't happen, of course, because then Denmark is in trouble.
The Forest Tower - Green Denmark from Above
A nature experience is also essential and next stage of the tour is the forest. Denmark is covered by 14.4% forest and in one of these forests you'll find something very special. In the middle of Gisselfeld Kloster's forest you will find a 45 metre high tower. It allows guests to experience the Danish forest from above. The forest tower offers a unique view of the treetops and is a relatively new attraction on Zealand.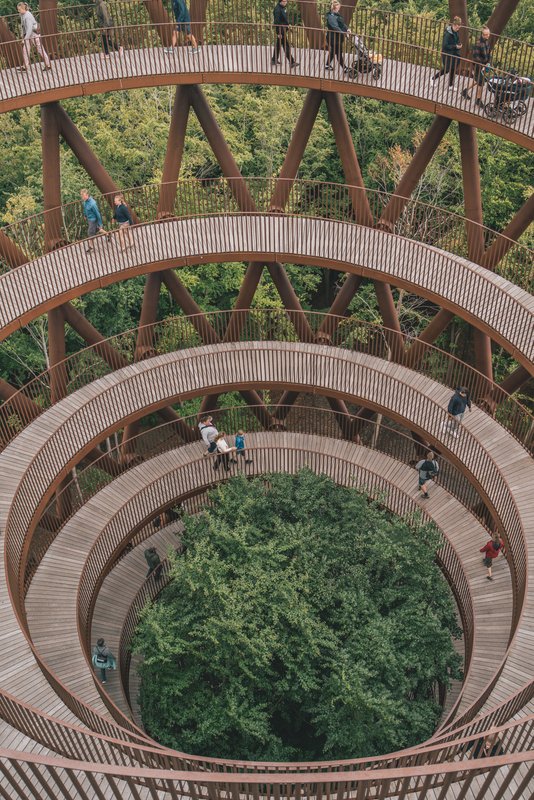 The Forest Tower was unveiled in March 2019. It is made of Corten steel and oak, which gives it a beautiful exterior that winds up towards the sky. If you are afraid of heights, the Forest Tower may not be your turf, but I can only strongly encourage you to challenge your fear of heights and give the tower a try. The rewards are well worth it.
There are many reasons to visit the tower. A reason is to challenge the fear of heights, but it can also be to exercise, become one with nature, see Danish nature from above or simply because it is a unique creation that just has to be experienced. If you want to get your adrenaline going, Denmark's largest climbing park is also right in the area. In other words, there is no reason to stay away if you are in the area anyway.
Stevns Klint - verdensarv på østkysten
Unlike the first two stops on our list of UNESCO World Heritage Sites, which were man-made, this time we're going out into nature to find something that humans could hardly construct.
Stevns Klint is a World Heritage Site mainly because the Earth was hit by an asteroid 66 million years ago. As well as wiping out half of the Earth's animal species, including dinosaurs, it formed a special layer of fish clay in the cliff. It is this fish clay that distinguishes Stevns Klint from Møns Klint. The cliff has a unique nature, where you can experience the beautiful and the harsh in a perfect symbiosis. In these surroundings, there are a total of 20 kilometres of paths that are perfect for hiking.
Stevns Klint is a fantastic place to visit and definitely something you should treat yourself to. However, you should be aware that the cliff is still alive and therefore pieces of it occasionally fall off. Some stretches are therefore dangerous to walk on. It's a place that bears witness to violent events, and the layers of the cliff hide stories of mass death and extinction. Yet, the site also bears witness to life, as the cliff is breathing, living and moving.
As Dr Ian Malcolm said in Jurassic Park: Life finds a way.
A Detour to Møn
I have reached the end of my tour of Zealand and the last pit stop is not even on Zealand, as I'll take a small detour to Møn. Møn is admittedly not part of Zealand itself, but is part of the region of Zealand.
Møn is only a couple of hours' drive from the capital and even shorter if you're travelling from central and southern Zealand, and Møns Klint is visited by more than 200,000 people every year. As with Stevns Klint, it's a fantastic place to experience nature at its best. The cliff consists of chalk, which in some places rises up to 128 metres above sea level.
The Mighty Forces of Ice
Whilst it may give you an idea of what it looked like in the time of the dinosaurs, the cliff was actually formed during the Ice Age, when ice pushed the chalk up from the ground to form the iconic white walls. It pushed so hard that horizontal layers are almost vertical now.
Whatever your age, interest or mobility, Møns Klint is an ideal destination, with nature experiences to suit all interests. You can go for a short hike with perhaps the best views in Denmark, or you can take a full-day hike where you might be lucky enough to find ancient fossils. You can take the 497 steps down - and up again - to the beach or you can walk the 267 metre long footbridge that offers views over the cliff. You can also visit the Geocentre Møns Klint, where you can experience a lot of geocentric entertainment.
Copenhagen is a fantastic city and a wonderful capital of our Danish country, but Zealand is so much more. Zealand is nature, history, religion and fantastic culture. Whatever you're into, you'll find something to suit your taste on Zealand - even outside the borders of the capital. I certainly hope that your next trip around the country will take you past Zealand. If you need competent guides on Zealand, we are ready.
We are happy to say visit Zealand with Guide Service Denmark and our guide service Zealand.
Photos
Jystrup on Zealand. Photo: Christoffer Anias Sandager. License: VisitDenmark
Trelleborg Viking Castle on Zealand. Photo: Daniel Villadsen. License: VisitDenmark
Roskilde Cathedral in the background. License: VisitFjordlandet
The Forest Tower. Photo: Mads Tolstrup. License: Destination SydkystDanmark